In 2022, we adopted the ESG strategy. This is a big step towards sustainability and conscious future.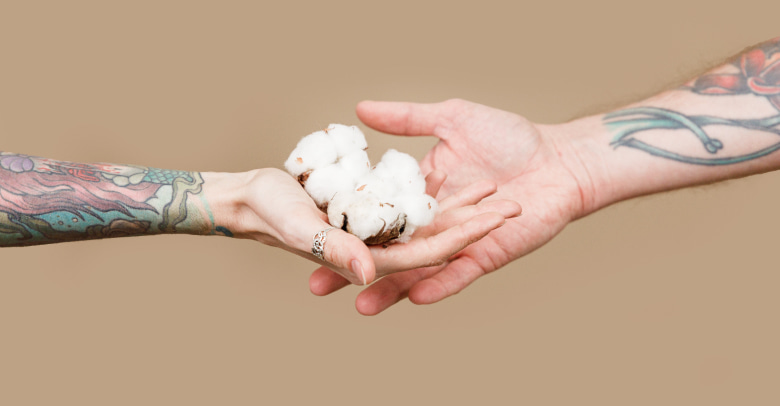 Our goal is to be the fashion retail avant-garde. Our whole culture is aimed at achieving this goal.
SUSTAINABLE DEVELOPMENT STRATEGY
In 2019, we started our journey in sustainable development. We've been observing, practicing, and searching so that the very concept of sustainability becomes an integral part of the Melon Fashion Group.
As a responsible business, we want to be, rather than to seem. As a result of assessing our capabilities, we shaped our ESG strategy based on best practices in the fashion industry.
HOW DID WE COME TO THE ESG STRATEGY?
2019
The Cult of Sustainability at MelonBook
Over 10 years
Supporting various social and charitable projects
2021
Time for consistency and integrity
Pursuing ESG goals, we provide customers with the opportunity to follow responsible consumption principles and choose a conscious approach to fashion.
THE MELON FASHION GROUP'S ESG STRATEGY COVERS THREE IMPORTANT AREAS
Hover over the petal to find out more
Tap on the icon to find out more
Increasing transparency and traceability of the supply chain
Working with suppliers to improve their environmental and social responsibility practices
Decreasing own negative impact through saving resources, reducing waste, and finding environmentally friendly solutions in the production
Raising consumer awareness about sustainability and responsible consumption
Creating a comfortable working environment and opportunities for professional development
Improving competencies in the field of sustainable development
Standing up for the supported employment program
When shaping the ESG strategy, we focused on the UN Sustainable Development Goals, selecting for ourselves the five main ones to which we can make the most significant contribution.
8
Decent work and economic growth
8
We develop our business considering our environmental impact and provide decent working conditions
12
Responsible consumption and production
12
We are implementing solutions for more rational use of natural resources
13
Climate action
13
We promote the principles of environmental responsibility and strive to reduce greenhouse gas emissions
3
Good health and well-being
3
We care about the employees' health and well-being
9
Industry, innovation, and infrastructure
9
We work with suppliers to improve their practices in the field of environmental protection
Packaging
IMPLEMENTATION OF ECO-FRIENDLY PACKAGING SOLUTIONS
Audits
INCREASING THE SHARE OF PRODUCTS MANUFACTURED AT FACTORIES THAT HAVE PASSED ETHICAL AUDITS
Training
DEVELOPMENT OF A TRAINING PROGRAM FOR EMPLOYEES AND SUPPLIERS
Melon Fashion Group has a number of Policies that define the company's basic approach to responsible business conduct concerning environmental and social responsibility, and effective corporate governance.

In addition, since 2019, the company has been releasing an annual Sustainability Report.